Oftentimes it is said that ghosts are spirits who are trapped into this world. They cannot move into the higher plane because of unfinished business. It is gloomy to consider that even children's spirits refused to move on. There are accounts of encounters with ghost children.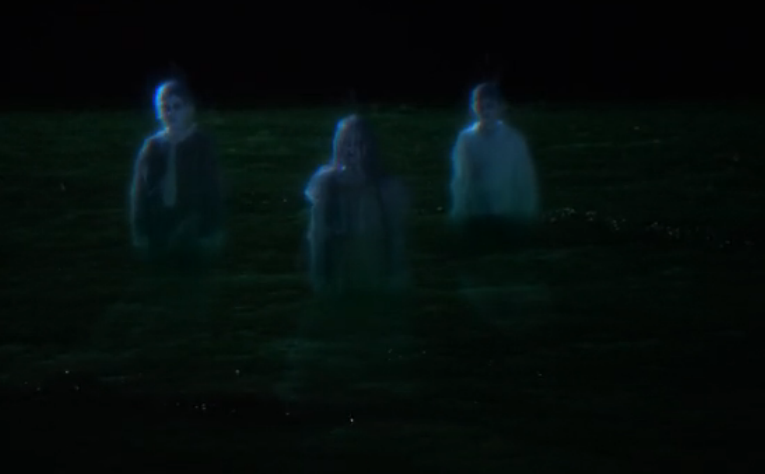 Little Boy Blue
I was looking at pictures of ghosts, and I have a story to tell.
At my house in Dumas, Texas I had never really seen a ghost. But, out of the ten years I have lived there, I saw a little boy – once. I was in my living room, and turned my head toward the kitchen…and out of the corner of my eye, I saw a little, blue boy with a little, blue bouncy ball in his hand in my hall way. As he saw me look at him, he ran straight to the end of the hallway, and straight through the wall.
I haven't seen him since, then. It was in 1997. – Heather Holt
Girl in my bed
I was six years old at the time. Our house was three stories with the second floor being rented out. My brother Mark and I were to sleep on the third floor which had three bedrooms. After saying goodnight to our parents, I ran up the steps alone. Mark was still in the living room talking.
When I reached the top step of the third floor, I saw a very young girl around the age of four or five sitting on my bed. She wore a white frilly dress. Her hair was long and curly with a large white bow on top of her hair. We didn't speak we just looked at each other. After standing and staring I turned and ran down the stairs to get my parents.
My older brother was at the bottom of the stairs when I told him a girl was sitting on my bed. He said he would run her off thinking she may be living on our second floor. I never went further than the bottom of that first flight of stairs. She was gone, never coming down the steps. I told my parents about the young girl, they said no children were living on the second floor. Nothing was ever said again. – Kathleen Mastin
Boy at the Cemetery
My daughter is only two and 1/2 years old, but speaks very well for her age. Back in July of 2003, I was nine months pregnant and about to go crazy trying to go into labor. So she and I decided to take a walk down a road near our home. We had only gone about a fourth of a mile when we passed the small rural church we attend and the cemetery beside it. She suddenly smiled and pointed to the cemetery and said, "Mom, I want to play with that little boy." I quickly replied, with chills going up my spine, that there was no boy. She replied, "He is right by that tree." With that, I turned around and headed back home. – Kristie N.
The Boy in the Bathroom
My cousin owns a home in upstate NY, it's nearly 200 years old. The first night that I am there I wake up in the middle of the night to take a piss (I am about 11 or 12 at the time). I open the bathroom door and standing right in the middle of the bathroom looking at me, like, "hey, I'm in here". He was a little boy of about 6-8 in 1920s or 30s attire!
I freaked screamed and slammed the door, opened it and he was gone. My scream was enough to wake up everyone in the house. They told me it was nothing and to go back to sleep. It wasn't for another several years that my cousin told me that there was a small boy that died their around the depression, he had fallen down the bum waiter that lead from that bathroom to the washroom in the basement!! I still remember the kid's face vividly (I'm 23 now). And it still gives me goosebumps when I give it any serious thought – abeuntstudiainmores
Little Girl
I use to live in a house in Livonia, Michigan. The house was haunted. We have all experienced something except my father. I'll tell one story (even though I have plenty more). One cloudy day, my mother and I were home alone. My mother was upstairs and I was downstairs watching TV, when I decided to go up to my room. I turned the corner and froze. Sitting in the living room, was this little girl. I walked upstairs to my mom and asked, "Mom, who is that little girl downstairs?" So, my mom freaks out, and we go downstairs to look; and no one there was there – all the windows and doors were locked. – Austin
Source: Angels & Ghosts  Personal Ghost Stories  Your Ghost Stories
Further Readings
Child of the Ghosts
Haunted: Ghost Children